Weekdays Only
Assorted 6 Types of Specialty Meats
[ 200g ]
¥4000
This is a dish that lets you enjoy special beef tongue, beef fillet, chuck rib etc little by little.
Assorted 5 Types of Intestines
[ 200g ]
¥1200
This is a dish that allows you to enjoy various meat intestines little by little.
Short Ribs Marinated in Tare Sauce
¥800
Thinly sliced short ribs marinated in homemade tare sauce.
Special Boneless Short Rib
[ tare sauce ]
¥1000
¥2100
The top of the line short rib.
Choice Short Loin
[ salt ]
¥2100
This is a particular potion of meat that has been carefully marbled and is often called haneshita among chuck top.
¥1800
This is thinly sliced chuck top. Lightly roast the meat on both side and enjoy!
¥4000
A top of the line portion of lean mean that is soft, yet has a juicy flavor.
Skirt Beef
[ tare sauce ]
¥1350
Beef Tongue seasoned with salt
¥900
Lightly roast this thinly sliced tongue and enjoy!
Beef Tongue seasoned with salt and green onions
¥900
Place plenty of green onions on top on the beef tongue, roast the beef tongue on one side and enjoy!
Special beef tongue seasoned with salt
¥1600
We will cut the tongue beef however thick you would like us to cut it for you. By all means please tell our staff how thinly you would like us to cut your tongue beef.
Fatty Tongue
[ tare sauce ]
¥600
This is meat that is attached to the bottom of the tongue of a cow. You can enjoy this moderately chewy, yet juicy flavor of tongue meat.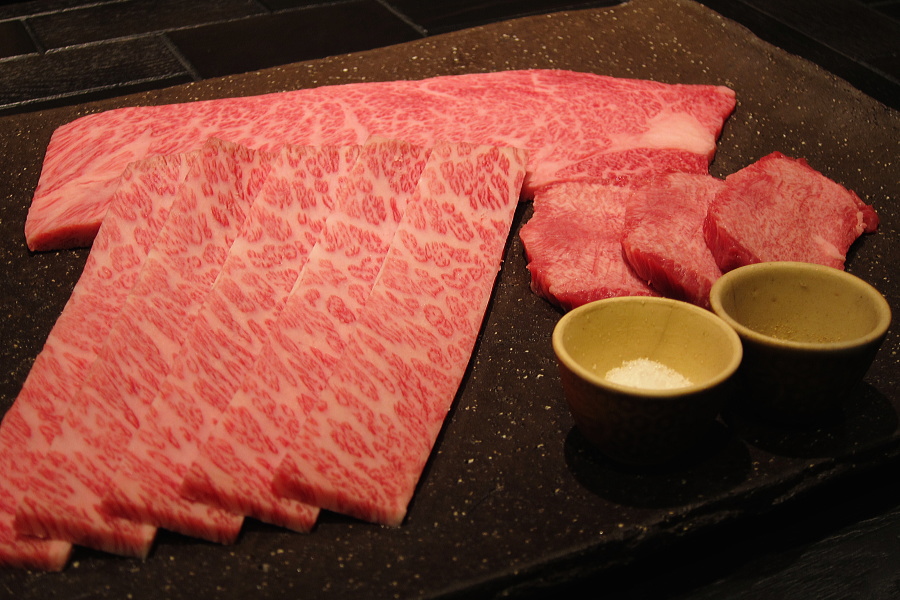 Cabbage
¥400
Onions
¥350
Mushrooms
¥400
Assorted Grilled Vegetables
¥600
Vegetables differs depending upon the season.
Sliced Garlic
¥400
Fried Garlic
¥500
Lettuce
¥500
Sesame Leaves
¥300
Assorted Vegetable Wrap
¥850
Lettuce, sesame leaves, 2 kinds of spicy green onions, fried garlic, soybean miso, seasonal vegetables.
Spicy Green Onions
¥350
Spicy Onions
¥350
Grated radishes
¥200
Sliced green onions
¥200
¥100
Kimchi
¥350
Cubed Radish Kimchi
¥350
Cucumber Kimchi
¥350
Assorted Kimchi
¥700
Vegetable Salad
¥900
Please enjoy our fresh, seasonal vegetables with sweet, soy sauce based dressing.
Green Vegetables and Radish Salad
¥600
Please enjoy the salad and vegetables with sesame seed oil and dressing that has a light hint of garlic.
Vegetables Salad with Octopus
¥900
Enjoy octopus with vegetables dressed in Korean red chili paste (red chili paste with vinegar miso dressing) along with garland chrysanthemum salad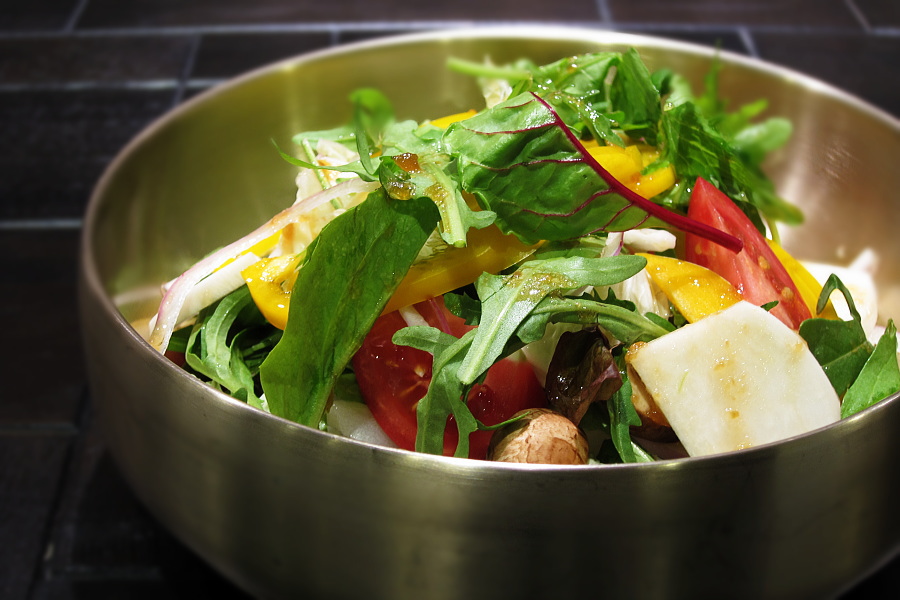 Steak Tartare
¥1000
Raw Beef Omasum
¥700
Raw Beef Tongue
¥1650
Today's Sashimi
ask me
Soybean Sprout Namul
¥350
Namul is a general term for a Korean seasoned vegetable dish.
Assorted Namul
¥850
Chinese Leave and Sakura Shrimp Korean Pancake
¥750
Korean Seafood Pancake
¥1100
Today's Korean Pancake
ask me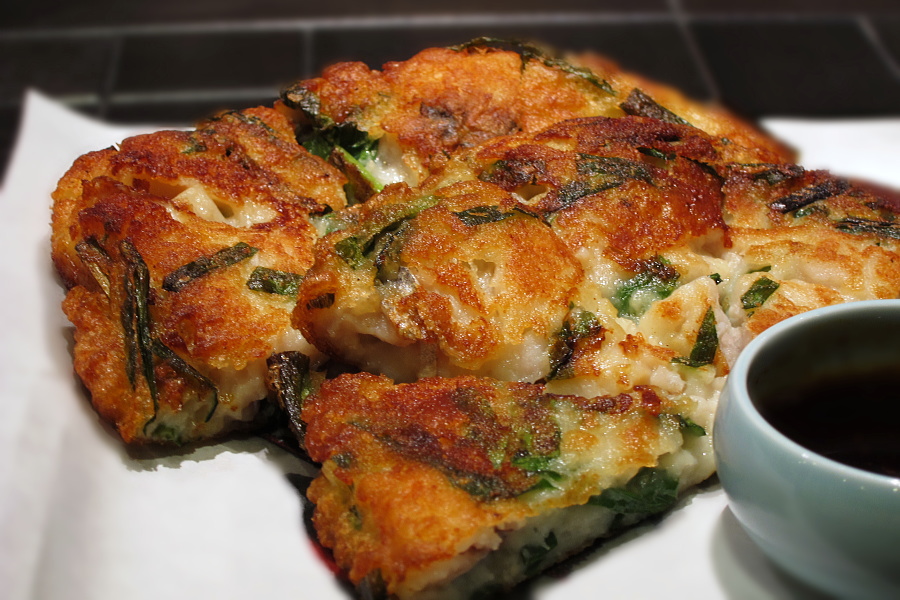 Spicy Cod Innards
¥400
These are salted codfish innards that have been marinated in red pepper, garlic etc.
Korean Style Seaweed
¥250
Steamed Beef Tongue
¥850
Lightly grill this sliced steamed tongue beef that has been marinated in a soy sauce based tare sauce, then enjoy it along with some green onions.
Wakame Soup
¥450
Egg Drop Soup
¥450
Short Ribs Soup with Kimchi
¥800
Kimchi and salty-sweet, steamed short rib, spicy egg soup.
Spicy Beef Soup with Vegetables
¥800
Rich, yet salty soup with steamed vegetables and beef.
Tail Soup
¥1600
Soup with steamed cow tail and plenty of collagen.
Samgyetang
[ Ginseng Chicken Soup ]
¥2500
Extremely nutritious steamed soup with Asian ginseng and chicken stuffed with sticky rice and jujube.
※Must make reservations for this dish at least one day before you come to the restaurant.
Fish and Tofu Stew
¥1000
Lightly flavored soup that uses uniquely flavored soybean miso.
Beef and minced Tofu Stew
¥700
Korean stew with eggs mixed with minced tofu and salty-sweet steamed beef.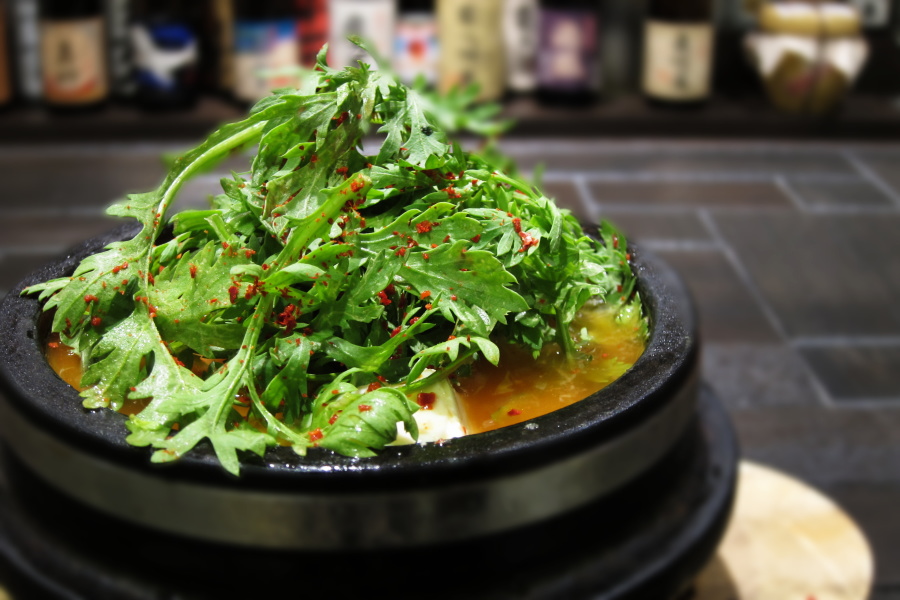 Korean Fried Rice
¥750
Stone Roasted Korean Fried Rice
¥950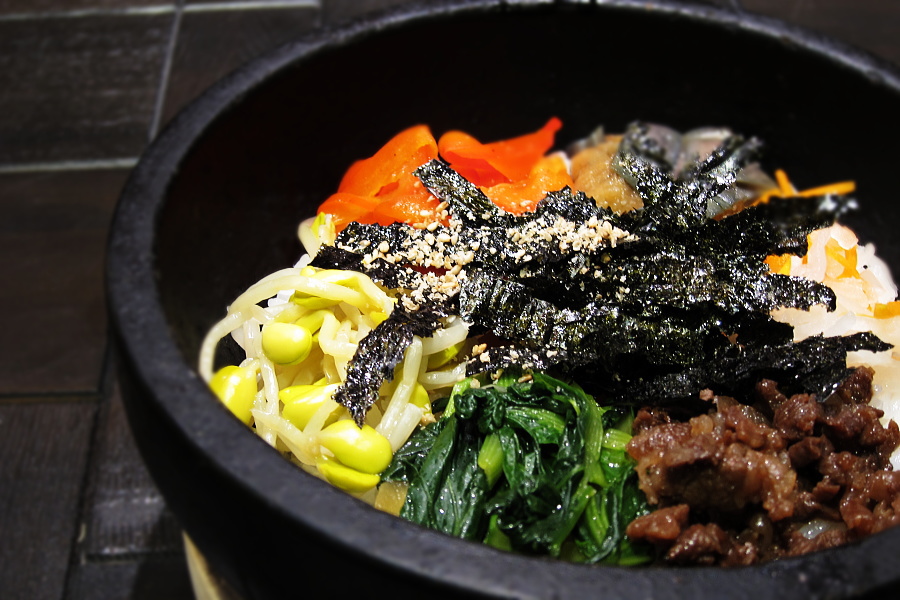 Plain
¥650
with Short Ribs Soup and Kimchi
¥950
with Spicy Beef and Vegetables
¥950
with Cow Tail
¥1700
Cold Noodles
Regular ¥900 / Small ¥650
This uses cold soup with a lightly flavored beef base and buckwheat noodles that have a very unique taste.
Korean Spicy Mixed Cold Noodles
Regular ¥900 / Small ¥650
Buckwheat noodles dressed with spicy marinated dare sauce.
Rice
¥300
Orange
¥400
Apple
¥550
Pineapple
¥600
Melon
¥700
Seasonal Desserts
¥550